July, 2018 – Article on prospect theory in foreign policy analysis
An article on underexposed issues, advancements and ways forward regarding prospect theory in foreign policy analysis, co-authored with Dieuwertje Kuijpers, has just been published open access in 
Contemporary Security Policy
.
June, 2018 – How to use qualitative data in QCA
Together with Debora de Block, I answer this question in a paper that addresses the challenges related to transforming qualitative into quantitative data in Qualitative Comparative Analysis (QCA) and that has just appeared as  EarlyView publication in Journal of Mixed Methods Research.
June, 2018 – Politicologenetmaal
On 7-8 June 2018, I attended the Dutch-Flemish Politicologenetmaal in Leiden, the Netherlands, to present an updated version of the MPSA-paper (see below, with Sjoerd Stolwijk).
May, 2018 – Do political elites use heuristics?
Do political elites also use heuristics in their judgment and decision making? In a recently published article 
Political Studies Review
I argue that – under specific conditions – they do.
April, 2018 – MPSA Conference
On 4-8 April 2018, I attend the MPSA Annual Conference in Chicago, United States, to present a paper (co-authored with Sjoerd Stolwijk) on whether politicians use the availability heuristic in their judgment and decision making.
November, 2017 – When do parties change their platform in-between elections?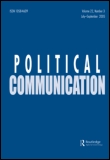 Mariken van der Velden, Gijs Schumacher & I just published an article on when political parties change their platform in-between elections in Political Communication. Based on an analysis of >20,000 press releases from Dutch political parties between 1997 and 2014, we show that electoral defeat motivates party platform change in-between elections and that parties are thus backward looking (cf. the electoral performance mechanism) instead of forward-looking (the rational anticipation mechanism). We find this result of parties looking backward only for parties in opposition, though, and – interestingly – find no indication that this effect weakens over time. Our findings also provide mportant insights on the role of government participation.